Designing neon lights for home decor is EXTREMELY creative. Our neon lighting has 21 color options, and rainbow neon light must be able to express your ideas to the fullest. You can design your text online or send creative hand paintings or pictures to us. We offer a free quotation and design renderings for you. order neon lights for home decoration now!
Let's make your home romantic and warm together.
Light up your day with a Sunshine neon sign
If you are seeking a special present for your significant other or just some unique decor for your private space, look no further than a sunshine neon sign light.
A hello sunshine neon sign is ideal for a wedding, engagement party, anniversary celebration, or even for your living room, bedroom, or art wall.
Read More
A gorgeous sunshine neon sign helps you create a statement by lighting up the entire area. Choose a sunshine neon sign light to experience the beauty of neon light.
Besides, a sunshine neon sign is your go-to option if you're looking for a thoughtful gift for your significant other.
Why incorporate a neon sign into your design?
Send a specific message
Custom neon signs can convey any message you desire, so utilize them and devise creative ways to advertise your business. All you need is a smart plug or an amusing, funny phrase to grab attention, make people smile, or spark a conversation.
Create ambiance
There's no hiding that it's all about light, of course. Neon signs are attractive because they illuminate your environment and add another aesthetic element. In fact, you can use a sunshine neon sign as the only lighting source to make a cozy seating area or alter the ambiance inside.
Besides, you can use neon signs seasonally to mark special occasions.
Be cute
You can create a lovely atmosphere depending on the messages you convey on your neon lights. A sunshine neon sign light lets you give your business a quirky twist while enhancing the cuteness factor, win over hearts, and get phone cameras clicking.
Think creatively and develop a message that promotes your brand or products admirably while avoiding blatant self-promotion.
Showcase creativity
Who said neon signs couldn't be attractive, romantic, stylish, or whichever else you wanted them to be? Consider putting more than just a primary neon sign on your wall, door, or window; mix it with various backgrounds to create a rich and unique appearance.
Get a classy and elegant hello Sunshine neon sign.
Neon signs were widely used in 1970s commercial interiors and have never lost their appeal. Presently, they are commonly used in cafe, restaurant, and bar design, and there are good reasons.
When it comes to a hello sunshine neon sign, coolness reigns supreme. A simple or multicolored sunshine neon sign demands attention and promises a good time. This is because these lights are warm and inviting while still being hip and artistic. They have a strong visual impact, are inexpensive as decor, and are hard to ignore. Additionally, they are energy-efficient, even the newest LED neon lights.
No matter what goods or services you offer, your company's main objective is to satisfy your clients. A sunshine neon sign offers an inspiring message that could inspire customers or make them feel special.
Create an environment that makes your consumers happy by incorporating this hello sunshine neon sign with striking patterns or brilliant colors in your interior design.
Call us today and get these custom neon signs delivered to your home!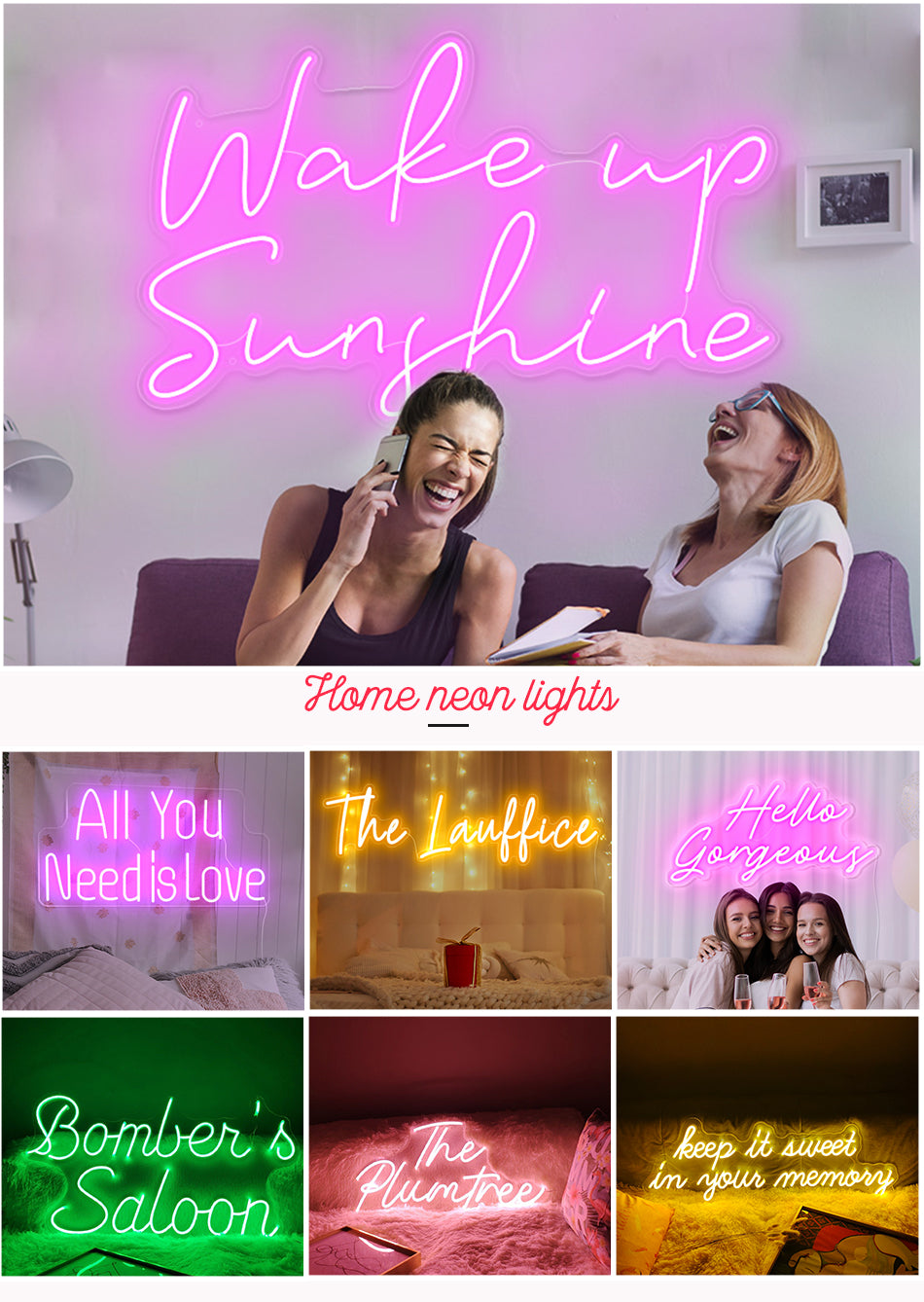 Home Decor

Check out our wide range of customized neon lights for your home. Bring color to any room of your house be it your kid's room or the living area, we have got you covered.


Personalized Neon Lights

No matter what the occasion is, get yourself our top quality personalized neon lights, only to set the frame of mind right where it should be. Whether you want it in your living room or your vanity room, your garden or your indoor swimming pool, these are the neon signs, just right for you!

Bar Signs

Having defining signs is a very good way to grow your business. If you feel the need to section your bar or a cocktail is all you offer, you must have one of these custom neon bar signs hanging around your bar.

Weddings

On the big day of your life, you want everything to be perfect. Our neon lights add vibrancy along with class to your venue. The arch, the reception area, the dance floor even the backdrop of your cake, we have customized options for everything you may desire.


Children's bedroom

Brighten up the atmosphere of your children's room. They bring color in your life, you make their world colorful with these vibrant, unique and to quality neon signs. Whether their friends come over for a sleep over party or they are set to play, these neon signs would only add to the beauty.

Indoor Yoga and Fitness Center

What could be more encouraging than a vivid sign that tell you, you are worth all the effort you are putting in! Get on with it, work hard, a little more, you can do it and many other such signs shining brightly to tell you not to give up!

Coffee Neon Sign

Give your coffee shop that much-desired sparkle and design with scenic neon light art that will speak nothing but good things for you and your business. Shine through the tiny bulbs of the neon sign which can be installed at any vantage point in your store.

Bedroom

neon lights designed specifically for bedroom ambience. Feel free to dim down or brighten up according to your mood. Sweet gleaming neon lights to convey you the positive vibes every time you step in or lie down to relax!

Romance

Set the mood, convey your emotions and complete your preparations for that lovely date with these custom made neon lights… love is in the air… shine through and express your heat felt emotions without even saying… with these bright, colorful and vivid neon signs…

Open Signs

Oh the Open Signs! And their ability to pull customers to you. Anyone walking on the street finds himself compelled to visit that place with a vibrant open sign. It's like inviting your customers even when you are not there.
Restaurants, Entertainment Venues
A must-have for your restaurant and entertainment venues are some cool neon signs. Get your hands on a variety of the mod, lush, most captivating neon signs to grab attention… Decorate a wall with a cool, trending neon sign, eye-catching enough to make your guests turn their heads…
Neon Lights That Can Be Selected with Multiple Color Options
Find the perfect match to your room's color theme… Available for you are neon signs in multiple colors, whether you are looking for a bright green or a sky blue, vivid yellow, or eye-catching red… stylish purple or serene white, lively orange, pretty pink, or classy blue, we have got you covered! Browse through the colors and find the one you have wanted all along!
20"/50cm
29"/75cm
40"/100cm
60"/150cm
79"/200cm
99"/250cm

Videos-Light Options

What if you want different colors for different moods and different themes… don't worry we have got you… check out our top-notch multicolor neon lights… 15 plus colors in one sign… choose the calming white or a bright red, vivid green, or pretty pink…. All in one sign you get…
Browse through our amazing designs and order the multicolor color light option to get single light with a quality of more than fifteen signs… dim the lights or brighten them up…. Flash the color patterns with the remote and have fun…
Payment methods:

Your payment information is processed securely. We do not store credit card details nor have access to your credit card information.