Til Death led light signs
Regular price
$169.99
/
Tax included.
Shipping
calculated at checkout.
---
Affirm your eternal love for your spouse by using the custom-led neon light. Not only will it make them much happier, but it will also increase the depth of the love they have for you. The custom-led light design exhibit the glow that speaks more of the beauty of the affection embedded in your heart and how much more and stronger you are to fight all hurdles to make the relationship a lifetime commitment. The personalized til-death neon light rekindles and increases the intensity of the burning light of love between you and your spouse.

lluminate the surrounding with Til Death do us apart neon sign
The unique look of neon signs regularly acts as inspiration for art. There's no denying that neon affects customers, which explains why more and more business owners are using neon signs as a form of advertising.
Read More
Since their introduction to the market in the 1950s and 1960s, custom til death do us party neon signs have developed into one of the best lighting solutions in terms of price and return on investment. Neon signs have the potential to be a distinctive marketing tactic for both big and small businesses.
Experience enhanced durability with Death do us part neon sign
Correctly constructed neon signs have a very long lifespan. Compare that to the normal lifespan of a lightbulb, which is between 6 and 12 months. Neon lights often live for ten years or longer, and when they do break, wiring problems or general wear and tear are more frequently at fault than light bulbs.
Taking care of a neon sign will serve your business for a very long time.
Neon Signs come with many versatile qualities.
The fact that neon may be used in a wide range of applications is another factor in its popularity. Neon is commonly employed in hectic, crowded places like Tokyo, New York City, and Philadelphia due to its adaptability.
Til death do us part neon is available in more than a hundred distinct hues, and the method used to make the glass tubing allows for countless design options. Neon signs can be used in both interior and outdoor design.
Till Death do us part neon signs are extremely cost-effective and eco-friendly
Given the increased focus on energy use and environmental protection, everyone should be switching to more efficient options.Till death do us part Neon signs use between 50 and 60 percent less electricity than the majority of modern signs.
Even a well-lit sign with incandescent bulbs consumes twice as much electricity and is less efficient at drawing clients to a business
Neon lights also consume less energy. A neon sign uses 100 times as much electricity in a single day as a toaster does!
In other words, using neon signage to reduce a business's carbon footprint is wise. Additionally, because neon signs last at least ten years, they create less waste.
Custom Till Death do us part signs enhance foot traffic for businesses
For marketing purposes and to draw attention to a business, neon is used. The world over, it is a popular and economical method of advertising. The neon glow also makes the sign stand out and be lovely, making it a striking piece of decor.
Neon signs are quite helpful for businesses, especially tiny ones, because of their high visibility. Because they are lighted up, they stand out and make their business location visible to potential clients after hours. These aspects contributed to the bespoke signs' appeal in
Improve overall visibilty with Til Death do us part neon signs
Neon may be pretty useful for businesses looking to increase their visibility and brand recognition. Neon is visible in all lighting conditions, including fog and night, because to its brilliant shine.
Because the human eye is naturally drawn to light, using neon lights in Philadelphia is one way to guarantee that your business is noticed at all times of the day. If you are a tiny business seeking to stand out, a neon sign will do wonders for you.
Neon may also be helpful for businesses who want to promote their location to passersby while operating with extended hours. While other sign kinds can be illuminated, neon is a more cost-effective option for illumination at night.
Enhance the beauty of commercial outlets in Till Death do us part custom neon lights
Neon signage can make a simple place look incredibly more affluent and posher. It fosters creativity in every room or area. Due to the practically limitless design options, select custom neon lights in Philadelphia that enhance the look and feel of your company, draw attention to the interior or external architecture of a business or serve as both lighting and artwork.
Till Death do us part signs are extremely affordable
The fundamental rationale for considering neon signs is the wide variety of available options on the market. They can be applied in several ways to promote your company as well. Many other options for advertising are likewise prohibitively pricey.
In contrast to other pricy advertising techniques, Philadelphia custom signs are affordable and beautiful. A neon sign will produce some of the most outstanding results if you want to dazzle clients while getting the most for your money.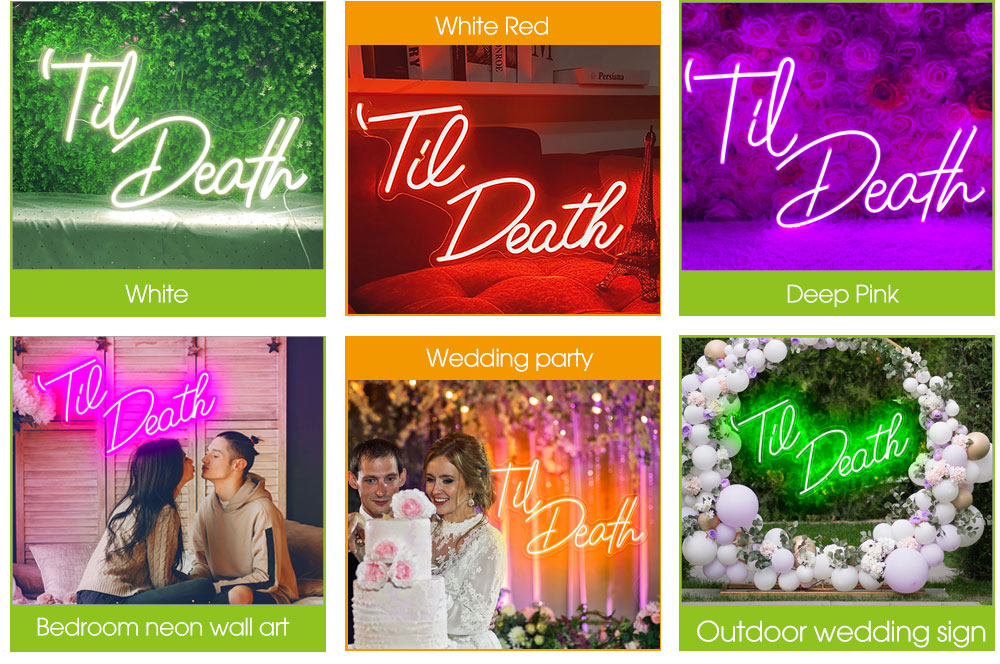 Payment methods:

Your payment information is processed securely. We do not store credit card details nor have access to your credit card information.