CREATE CUSTOM NEON SIGN IN 3 QUICK STEPS
CUSTOM NEON SIGNS WILL ENJOY
CHOOSE NEON SIGN BACKING TYPE
| | |
| --- | --- |
| Cut around acrylic(free) | Cut to letter Acrylic(+$35) |
| Free Stand Acrylic(+$60) | Rectangle Acrylic (Free) |
 
CHOOSE NEON SIGNS BACKBOARD COLOR
| | | |
| --- | --- | --- |
| Clear | Black | White |
| LOGO UV printing | Silver | Gold |

CUSTOM NEON LIGHT SIGN COLOR
White tubing& Coloured tubing
When designing a neon sign through our custom tool, there are 23 different colours you can choose from. eleven of these are white when the sign is turned off and coloured when it is switched on. These include: white red, white pink, white deep pink, white yellow, white Green, teal blue, white blue, white purple,white orange, cold white and warm white, Just like that:
There are 13 come with a coloured tube, so the sign shows its colour no matter whether it's on or off. These include: red, light pink, deep pink, golden yellow, green, ice blue, deep blue, purple, orange, lemon yellow, cyan and electric blue.

CHOOSE NEON SIGN COLOR STYLE
| | | |
| --- | --- | --- |
| Single Colour/Free | Single colour combination/Free | Uv printing color/+$65  |

Multicolor with controller RGB Toggle color/+$70%
You will get a safe environmentally friendly and energy efficient neon light
Handmade led neon light is safe! it made of environmentally friendly high quality LED flex cased in flex rubber tubing and acrylic backing,So it won't break,There is no odor, no toxic gas, and the neon sign very bright, but doesn't get hot, it is very safe to touch. So, Many parents use their children's names to custom a name neon light sign as creative gifts to decorate their kids room, and I have to say, it's a very special night light for them, This beautiful neon light keeps children feeling safe ,Because When they wakes in the night they can turn it on remotely and its soft light comforts them. Neon is a popular element in home decor.
NEON SIGNS STRUCTURAL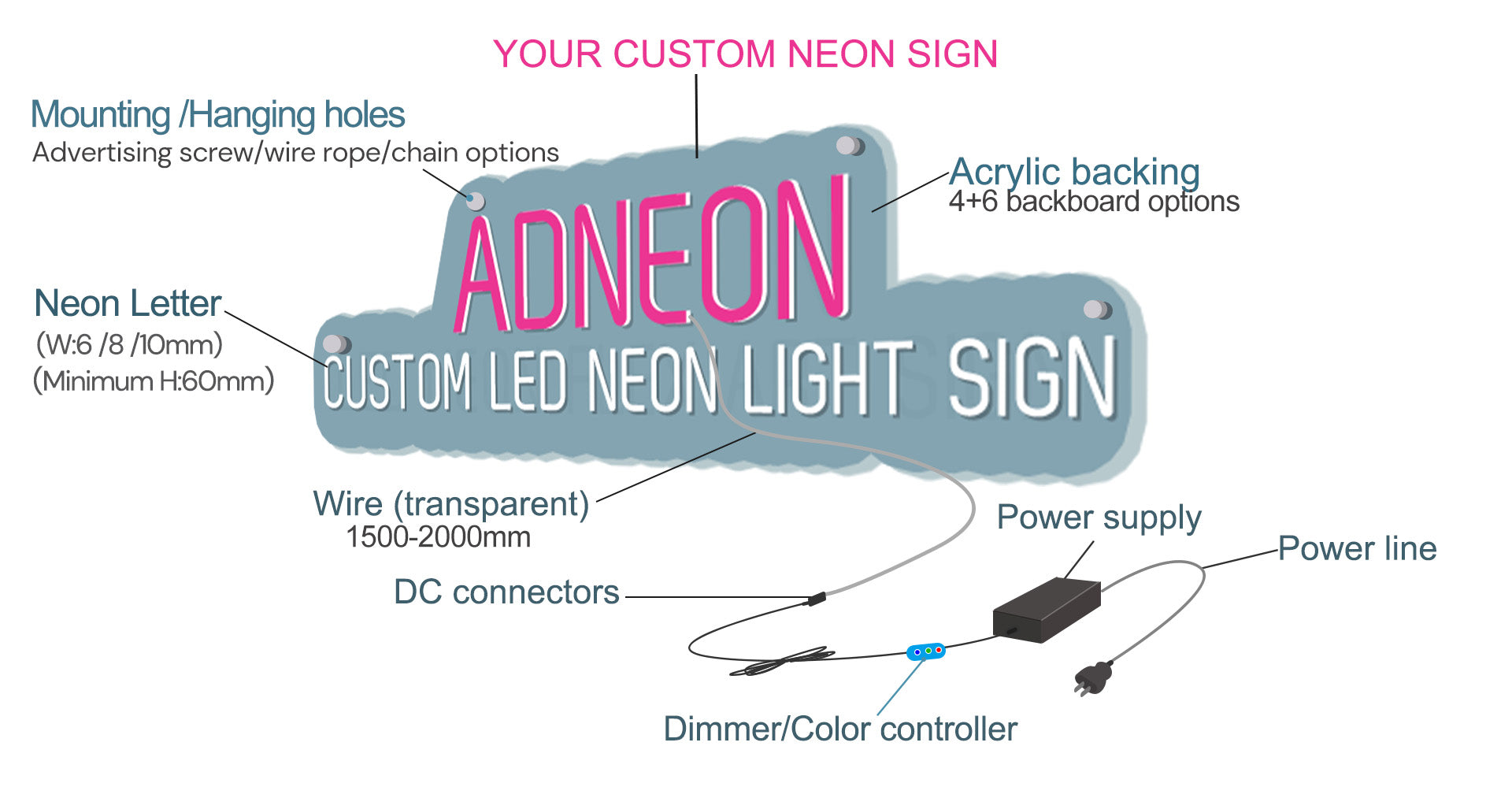 CREATE A CUSTOM GORGEOUS NEON LIGHT SIGN LIGHT UP YOUR LIFT
Payment methods:

Your payment information is processed securely. We do not store credit card details nor have access to your credit card information.