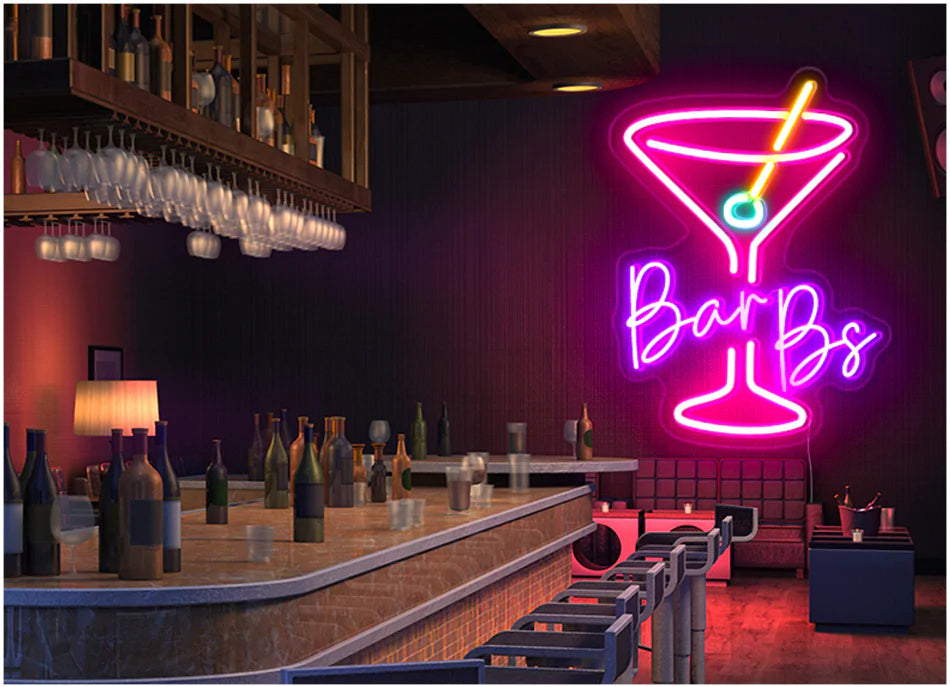 Why don't you try giving your bar a different look using the cheap custom-led neon signs? As Cocktail neon lights, beer signs, and bar signs, custom neon bar signs make it much more attractive and make people patronize you more through the blooming rays it emits. A bar designed with custom bar light-up signs creates that welcoming atmosphere for people intending to relax and free their minds of some stress. The personalized neon signs for the home bar will also make a beautiful design for your indoor bar leaving you with no option other than craving for your relaxation. You can input the text you want, and we give you free design effect drawing, order it now!
Feel the good times with a Beer neon light
Neon lighting is a collection of multi-colored lights used as decorations in residences, hotels, bars, restaurants, studios, etc. It offers various advantages in a variety of areas, mostly in business, to draw clients.
Read More
Neon signs are an excellent option for interior decor, and they can also be used in bedrooms with low lighting. Neon lights can be used for any type of décor because they come in practically all colors, according to the user's preference.
They can be utilized for birthday parties, events, and other house celebrations in addition to home decorations. It can also be used solely for penning inspirational messages or producing artwork with feel-good effects, for example, a beer neon light.
Beer neon light sign offers clean and efficient Illumination
After hydrogen, helium, oxygen, and carbon, neon is the fifth most prevalent chemical element in the cosmos. Given its widespread availability, it shouldn't be surprising that neon signage is so reasonably priced.
Neon electrodes don't waste any electricity because they don't have a filament and operate chilly to the touch. This is another reason why they typically outlive light bulbs. Save money on new bulbs by purchasing neon!
If a typical neon sign is on all day, it will cost roughly 20 cents in electricity at a regular wall current and 90 watts. In comparison, a standard toaster consumes 900 watts, 10 times more energy than a beer neon light!
Cheap neon beer signs are inherently durable
Neon signs are highly resilient and have a wide operating range, so they are safe even when there are surges and brownouts in the line voltage.
Neon signs can survive 10–12 years if erected and maintained correctly. The usefulness of neon signage is obvious, considering that the bulbs need very little maintenance and that conventional light signs can fail in as little as six months. A beer neon sign light can be set up quickly, so the benefits and advantages can be availed immediately.
Neon lights are extremely attractive
Since a beer neon light sign can be produced in any color, it may be more appealing than traditional light signs. Additionally, they don't have the same "glare" effect that some people find off-putting.
Neon light signs are simpler to read than traditional signage. This is due to the larger font size and wider spacing between the letters and digits.
Additionally, Due to their vivid colors and strong contrast, neon signs are more visible than conventional neon signs. This means that people are more likely to notice the sign.
Neon lights come with many options.
Due to their variety of shapes and designs, neon lights are fantastic for homeowners. You can choose a color for neon lighting that matches your particular preferences and style because there is an infinite variety of colors available.
Anyone who owns a home can personalize cheap beer neon signs and enhance them with their name, favorite saying, or anything else they want to place on their wall.
Additionally, cheap beer neon signs may create countless forms and patterns. Neon lights make it simple to make messages, logos, or even images, which is why these lights are so common for storefronts and business owners.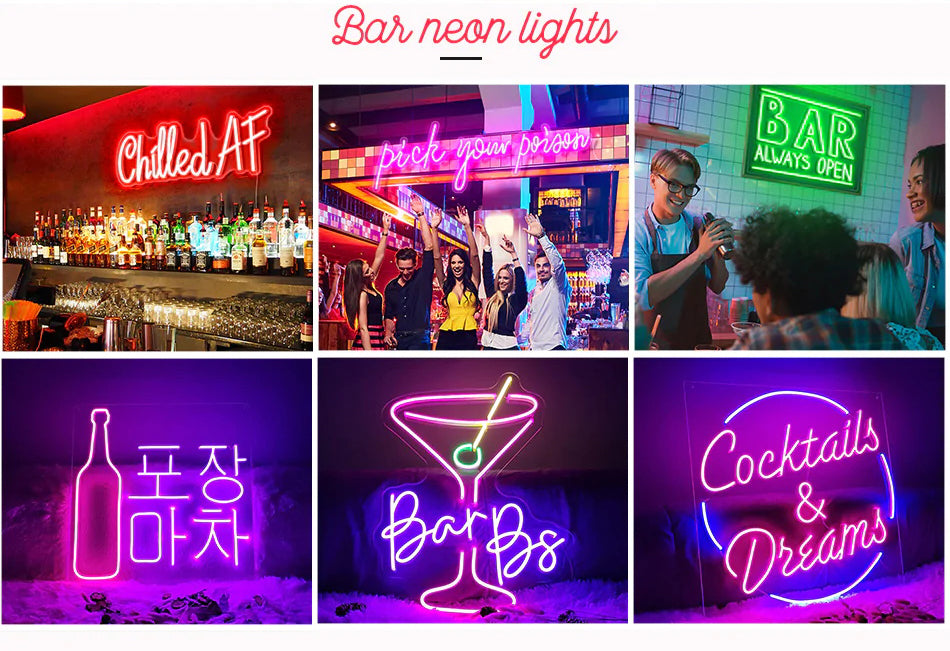 Payment methods:

Your payment information is processed securely. We do not store credit card details nor have access to your credit card information.