Why don't you try giving your bar a different look using the cheap custom led neon signs? Such as cocktail and dreams neon sign ,beer signs and bar sign,custom neon bar signs make it much more attractive and make people patronize you the more through the blooming rays it emits. A bar designed with the custom bar light up signs creates that welcoming atmosphere for people intending to relax and free their minds of some stress. The personalized neon signs for the home bar will also make a beautiful design for your indoor bar leaving you with no option than craving for your relaxation.You can input the text you want, we give you free design effect drawing,order now!
Promote your business with a korean neon sign
Being a bar owner can be an exciting business venture, but how can you make sure that your place of business stands apart from the competition?
A Korean neon sign might be the finishing touch that transforms your establishment completely.
Read More
These neon signs are a fun, engaging, and stylish design aspect for your business. Although a Korean neon sign has been around for a long time, it has recently become more popular for obvious reasons.
Such neon lights can be a fantastic addition if you're trying to figure out how to make your pub stand out in the middle of a busy city center.
A neon sign korean to gain greater design freedom
A neon sign Korean offers a retro appearance that may take you to a bygone era while still maintaining an updated and modern appearance.
These signs are excellent in drawing notice to your business and luring people to your front door. You can also design a custom Korean neon sign to match the look and feel of your bar or restaurant.
Irrespective of your brand or business type, a neon sign Korean allows you to design a marketing technique that will attract your target audience.
Here are three main benefits of a Korean neon sign.
Light up your space
Ensuring your bar is properly significantly lit impacts how your clients feel.
There's no denying that a Korean neon sign will give your pub a retro, cool look while complementing whatever concept it has.
You can beautifully light up any section of your bar with a wide variety of color options and the option to design your own custom sign.
Neon lights can be functional and impressive, whether it's a quirky sign to point people in the direction of the bar or restroom or a technique to offer lighting in a particularly dark area.
Advertise your store
Bar owners are undoubtedly well aware of the difficulties of running a successful business. It is often challenging to balance your budget while competing with popular businesses. Hence, it would help if you came up with unique ideas to make your bar stand out.
Your pub can employ a neon sign Korean as the perfect advertising technique. Hang a personalized Korean neon sign in your bar's window to draw passersby's attention.
In addition, you may choose your logo, a clever quote, or the chance to promote offers like happy hour.
Perfect artwork
Your final task is ensuring the customers return once they've entered your bar. Whether you decide to illuminate your brand or something else, a neon sign Korean can be the ideal artwork to cover the walls of your pub.
A neon sign Korean on the wall will become a terrific focal point for your bar, and you'll discover that customers even take pictures of it to post on Instagram.
Call us immediately if you're interested in showcasing your bar or restaurant with a brand-new, personalized Korean neon sign. We are eager to work with you to design and create the ideal sign that reflects your brand or business.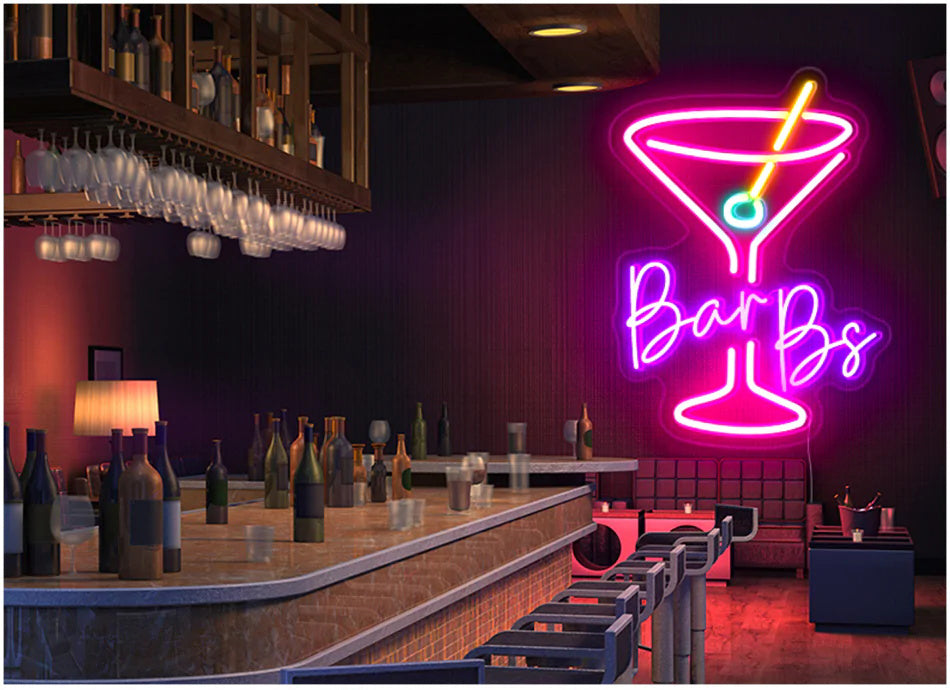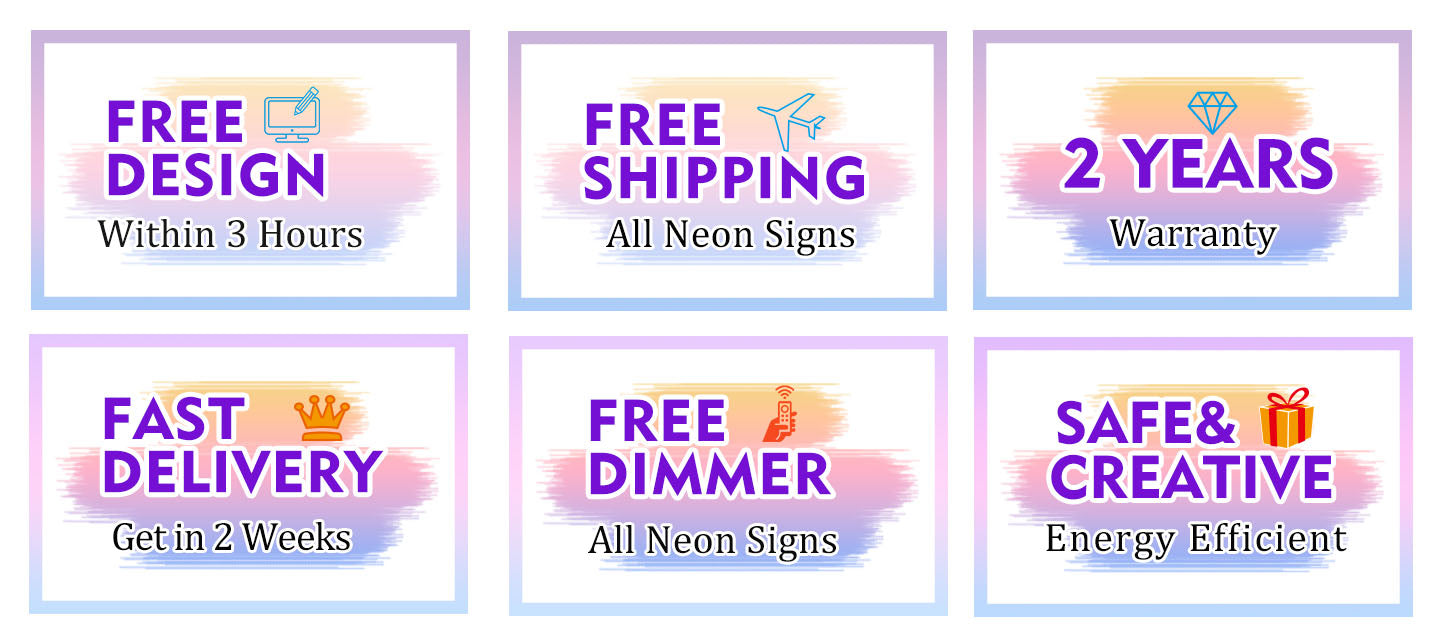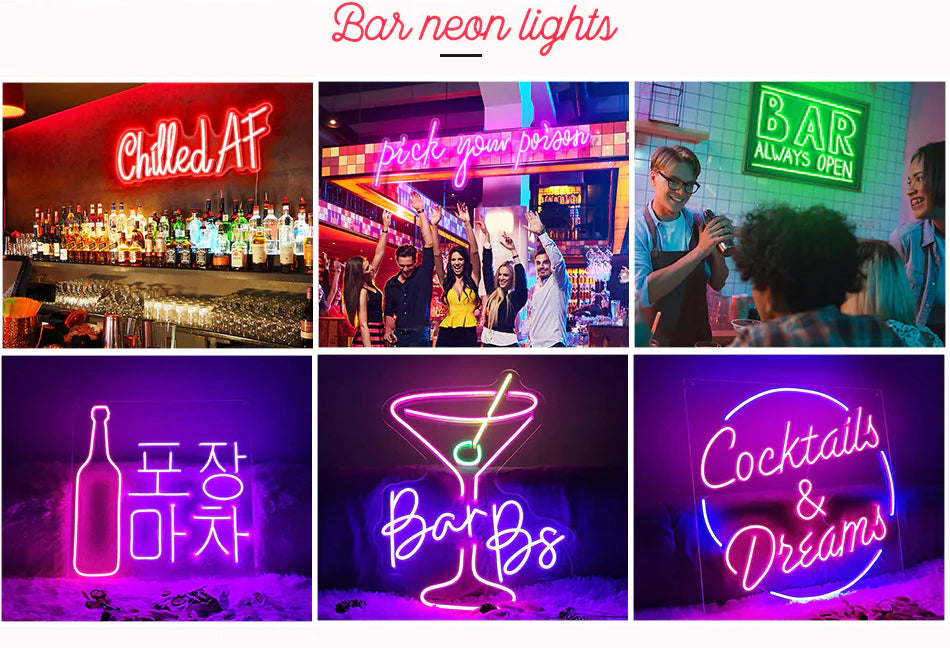 Home Decor

A scroll through this category will fetch you a view of stunning neon signs for home. Groom your house to become the rave of the neighborhood through neon signs. No matter the design, we are capable.




Personalized Neon Signs

Personalized design neon sign that can be customized for you. Whether it's initials, a heart sign, a phrase, we have the skill to bring your dream to life. Please walk us through your specifications, and the rest will be an adventure for us.

Bar neon Signs

What's a bar without the glory of neon lights? Thrill your clientele with lovely lights that will offer a welcome ambiance. Make each moment memorable for your clients with the purchase of neon bar signs.

Wedding Neon Lights

Say "I Do" in the most remarkable way possible. Take advantage of these custom-made neon signs and enjoy a wonderful experience. Allow these fashionable lights to charm your wedding guests and your bride/groom. Bask in these lights. Feel the joy in the tiny bulbs.


Children's bedroom

These neon lights can be customized for your bedroom and the children's room,neon lights to gift you and your children a wonderful time.You can also use these neon lights to welcome baby parties and lots more.it is shatterproof and 100 percent safe to be used as a décor in your baby's room.

Indoor Yoga neon sign

What could be more encouraging than a vivid sign that tell you, you are worth all the effort you are putting in! Get on with it, work hard, a little more, you can do it and many other such signs shining brightly to tell you not to give up!

Coffee Neon Sign

It is one of the trendy custom coffee neon signs, and it helps to portray your love for coffee in a good light. It has a silky design that makes it a good fit as a kitchen or dining décor. At the same time, it can be used to catch the attention of coffee lovers at cafes.

Neon Lights for Bedroom

Relax with our tasteful lights that are designed to place you in the right mood to fall asleep. The lights are design to allow you lie supine on the bed and meditate. Make your room a grand palace of lights and enjoy their glow.

Neon Lights for Romantic

Express yourself before your lover while our neon lights serenade them on your behalf. Let your heart show through the lights and unfold your desires before your lover. Celebrate the love for your dearly beloved with these magnificent lights.

Open Signs

This is one of the fantastic neon shop or store signs for a glowing representation of your availability status.It is a pretty bright outdoor symbol that is visible to viewers from afar with its attractive and readable design.
Neon Signs for Every Occasion
Birthday, wedding, bar, restaurant. Whether it's an event or location, we have a variety of neon signs that will complement the ambiance. All our neon signs are available in a variant of colors. Try us for a fun experience today!We are capable of handling all your needs.
Neon Lights That Can Be Selected with Multiple Color Options
Find the perfect match to your room's color theme… Available for you are neon signs in multiple colors, whether you are looking for a bright green or a sky blue, the vivid yellow or the eye catching red… stylish purple or serene white, lively orange, pretty pink or classy blue, we have got you covered! Browse through the colors and find the one you have wanted all along!
20"/50cm
29"/75cm
40"/100cm
60"/150cm
79"/200cm
99"/250cm

Videos-Light Options

What is you want different colors for different moods and different themes… don't worry we have got you… check out our top notch multicolor neon lights… 15 plus colors in one sign… choose the calming white or a bright red, vivid green or pretty pink…. All in one sign you get…
Browse through our amazing designs and order the multicolor color light option to get single light with quality of more than fifteen signs… dim the lights or brighten them up…. Flash the color patterns with remote and have fun…
Payment methods:

Your payment information is processed securely. We do not store credit card details nor have access to your credit card information.