Custom Better Together ourdoor wedding neon light sign can definitely give you that desired result you intend to make clear to your spouse even without speaking a word. The personalized light up signs specially designed for your spouse brings out the uniqueness and genuineness of the love you both shared. Order a neon sign today to surprise your spouse as a form of assurance of your love and communicate your eternal commitment to your marriage.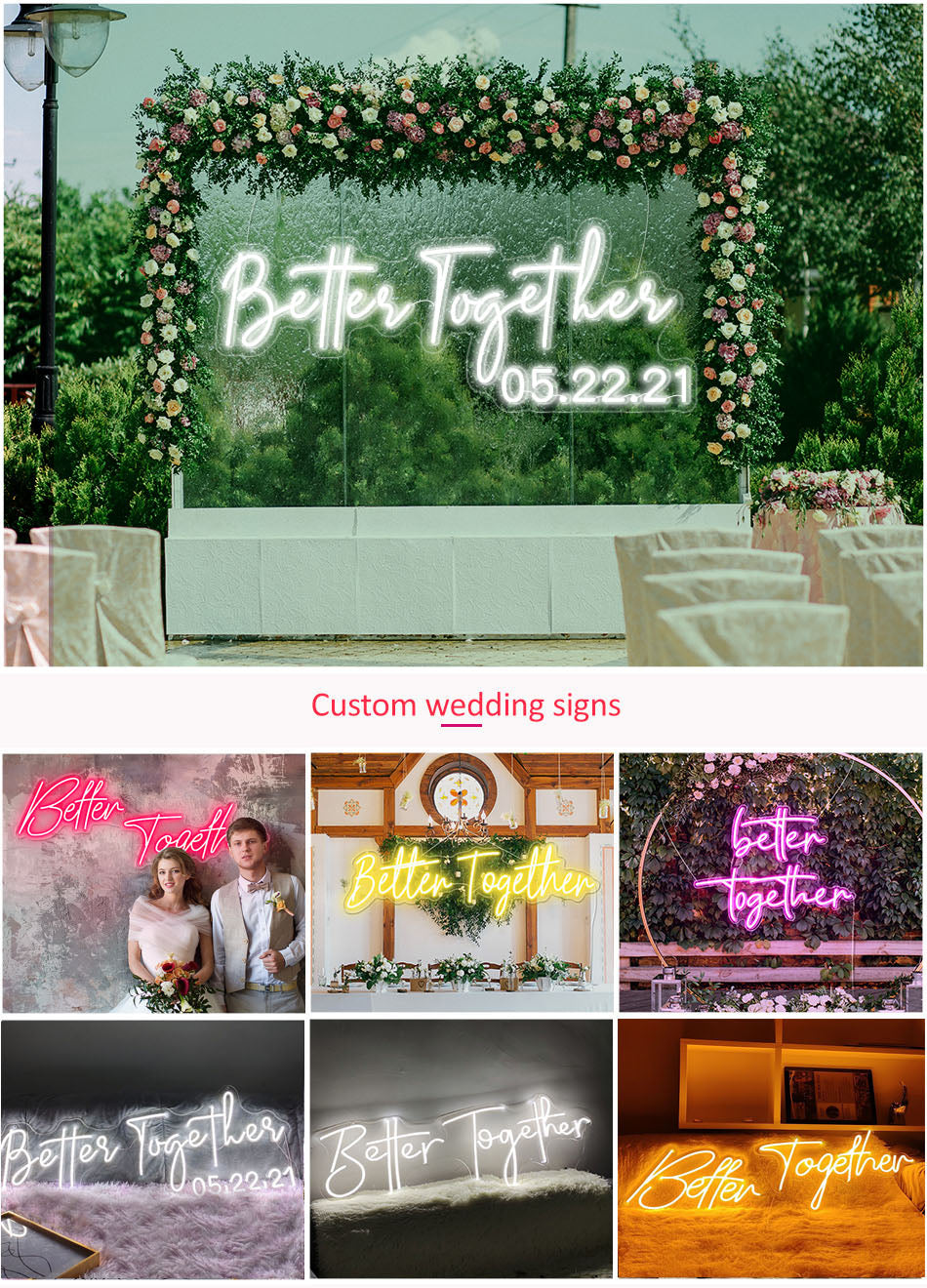 Neon Signs for Every Occasion
Birthday, wedding, bar, restaurant. Whether it's an event or location, we have a variety of neon signs that will complement the ambiance. All our neon signs are available in a variant of colors. Try us for a fun experience today!We are capable of handling all your needs.
Neon Lights That Can Be Selected with Multiple Color Options
Find the perfect match to your room's color theme… Available for you are neon signs in multiple colors, whether you are looking for a bright green or a sky blue, the vivid yellow or the eye catching red… stylish purple or serene white, lively orange, pretty pink or classy blue, we have got you covered! Browse through the colors and find the one you have wanted all along!
20"/50cm
29"/75cm
40"/100cm
60"/150cm
79"/200cm
99"/250cm

Videos-Light Options

What is you want different colors for different moods and different themes… don't worry we have got you… check out our top notch multicolor neon lights… 15 plus colors in one sign… choose the calming white or a bright red, vivid green or pretty pink…. All in one sign you get…
Browse through our amazing designs and order the multicolor color light option to get single light with quality of more than fifteen signs… dim the lights or brighten them up…. Flash the color patterns with remote and have fun…
Payment methods:

Your payment information is processed securely. We do not store credit card details nor have access to your credit card information.