Ice cream solves everything neon sign is so perfect,I think I'm hooked on it,If there is no way to eat ice cream, look at this ice cream neon lights would make you happy, wouldn't it?It can be used at home, it can be used at a sweet shop, it doesn't matter where you use it, the glow sign will give you a good mood,order now!
Ice cream neon sign
Advertisement is necessary for any good business to thrive. Neon signs are a great way to advertise your business or your store. These glowing signs will ensure that anybody who passes by catches sight of this ice cream sign board. The high wavelength of the neon signs makes it easier for people to spot it, and it can also be seen from a faraway distance, so people don't lose the location of your ice cream shop.
Read More
This neon ice cream sign looks extremely cool and will surely attract customers, eventually converting into sales. So if you wish to increase your sales and expand your business, you have to pay attention to the branding and advertising of your business.
Branding for your business with a neon ice cream sign
Branding and advertisement are two important aspects of scaling any enterprise. No matter what is the scale of your business. Using neon lights for your ice cream parlor can be a huge success for your store's popularity. Neon lights like this ice cream neon sign have a high wavelength which makes the light travel at far distances, eventually making neon your ice cream shop sign look more authentic and unique. Neon signs improve the interior and exterior of your ice cream parlor.
Benefits of neon signs
A great option for advertisement
Neon signs have consistently caught people's attention worldwide, being one of the most widely used methods of branding and advertisement for businesses and local stores. Neon signs such as ice cream neon sign provide the branding with a lovely and alluring touch, whether it is a champagne shop or an ice cream parlor. Advertisements will eventually turn into sales. Also, make your shop popular among people because of the vibrant high, wavelength colors coming from your shop and attracting customers.
Longevity
One of the key benefits of neon lighting is its extended lifespan, which is about ten years, more than enough time for any type of décor to last. Therefore, problems like dimming or fading glare are nothing to be concerned about, and you can keep them glowing 24 hours a day. Also, these lights use less energy, so you won't be paying heavy bills even if you aggressively glow these neon ice cream signs.
Increased visibility
Unlike light bulbs and other glowing decorations, neon signs provide a bright, attention-grabbing glare that can be seen from a greater distance. The fact that signs are multicolored also serves as a benefit because it makes them more eye-catching and makes it easier for passersby to see them. You simply need to install these neon ice cream signs and then watch for consumers to see the neon sign.
Neon signs for your business
Nowadays, there is a lot of competition in the market. No matter how niched down you are with your business, there will always be a competitor for your enterprise. To ensure that you stand out from the competitors in the same space, consider installing neon signs at your ice cream parlor so that your customers know your store well.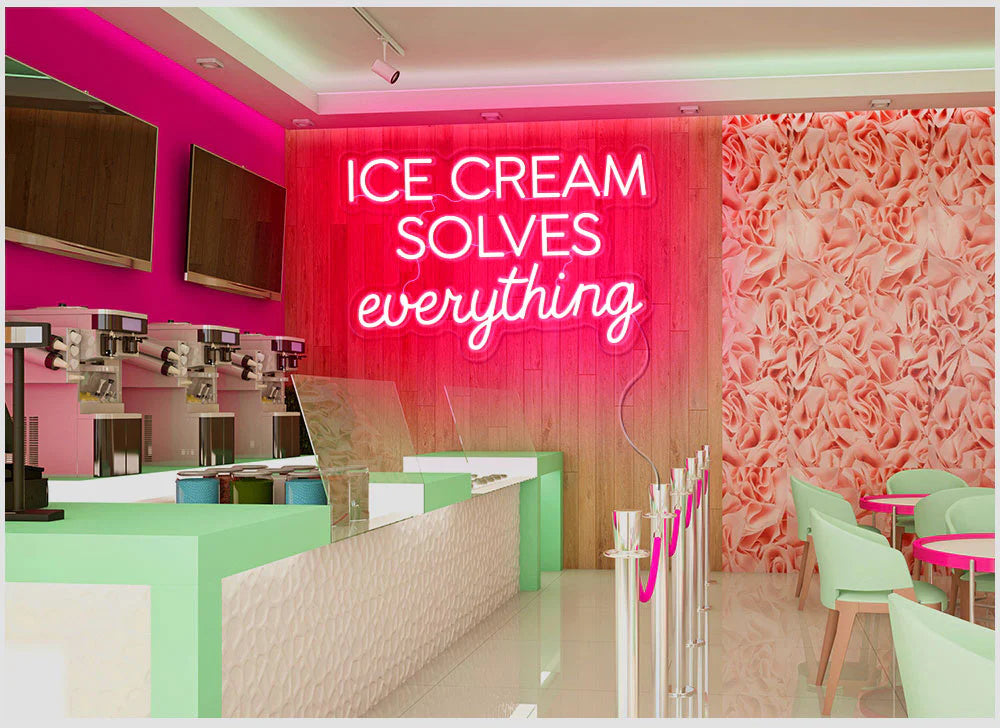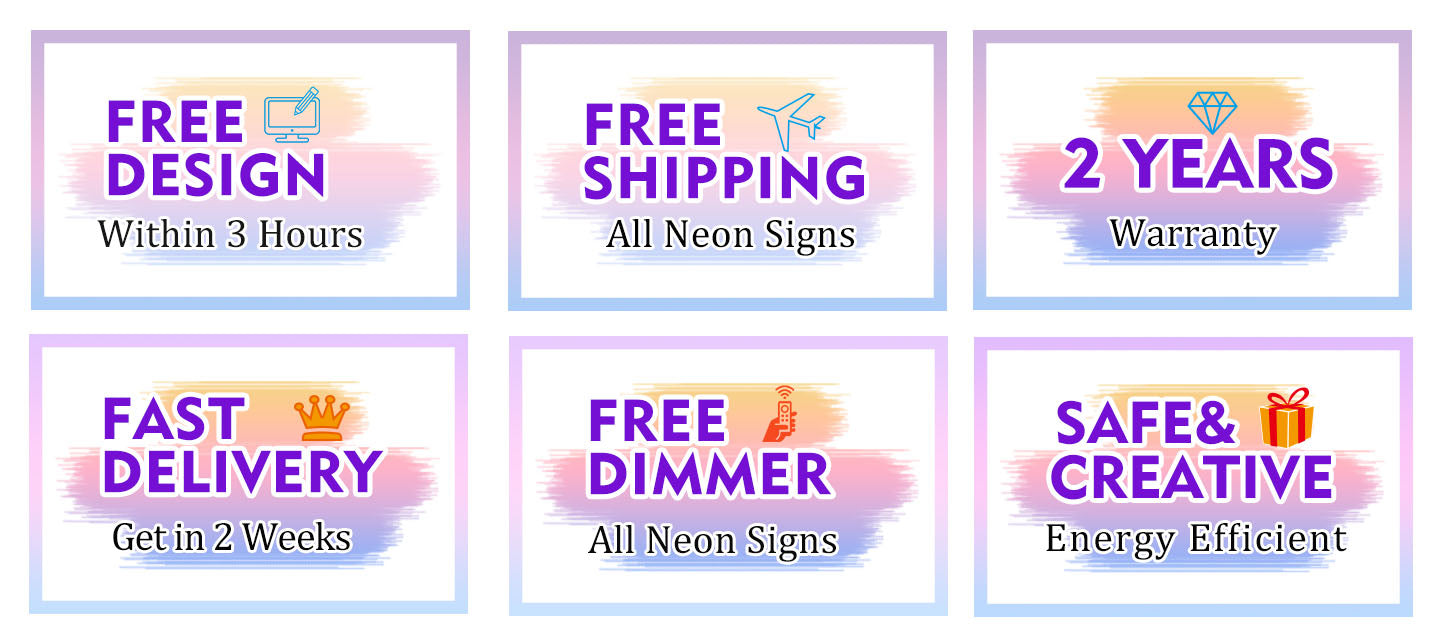 Custom personalized light up signs "ice cream solves everything neon light signs"use for personal neon wall art or commercial neon Signage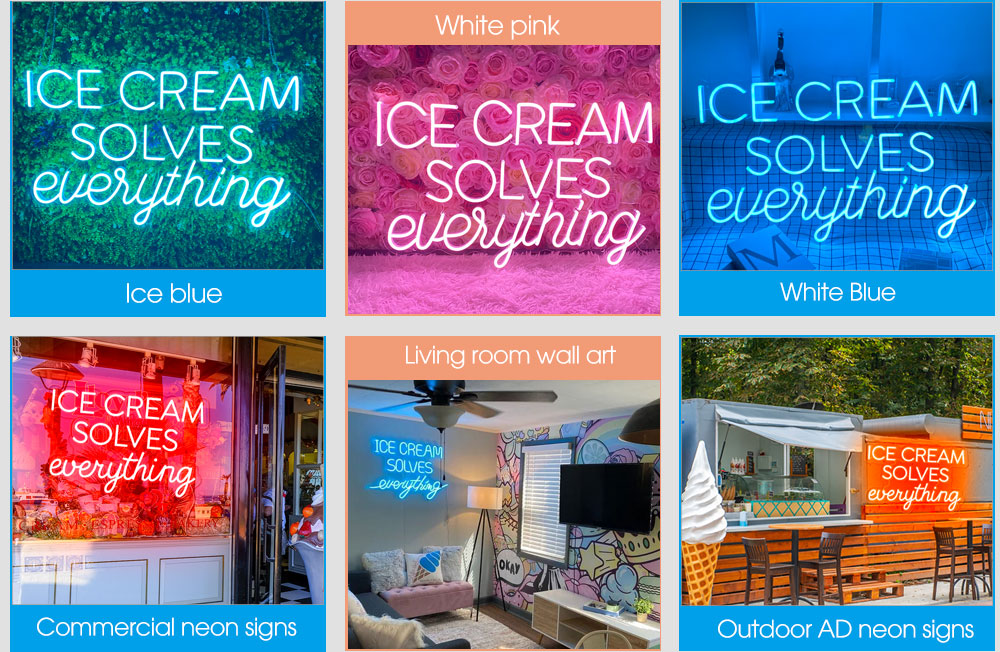 Payment methods:

Your payment information is processed securely. We do not store credit card details nor have access to your credit card information.
Looks great
The remote control wasn't working, but after contacting support, a new one was shipped to me immediately and it works great now.
Thank you for your review and feedback. We are happy to hear this from you. Thank you!
Thank you for your review. We are so happy to hear this from you!