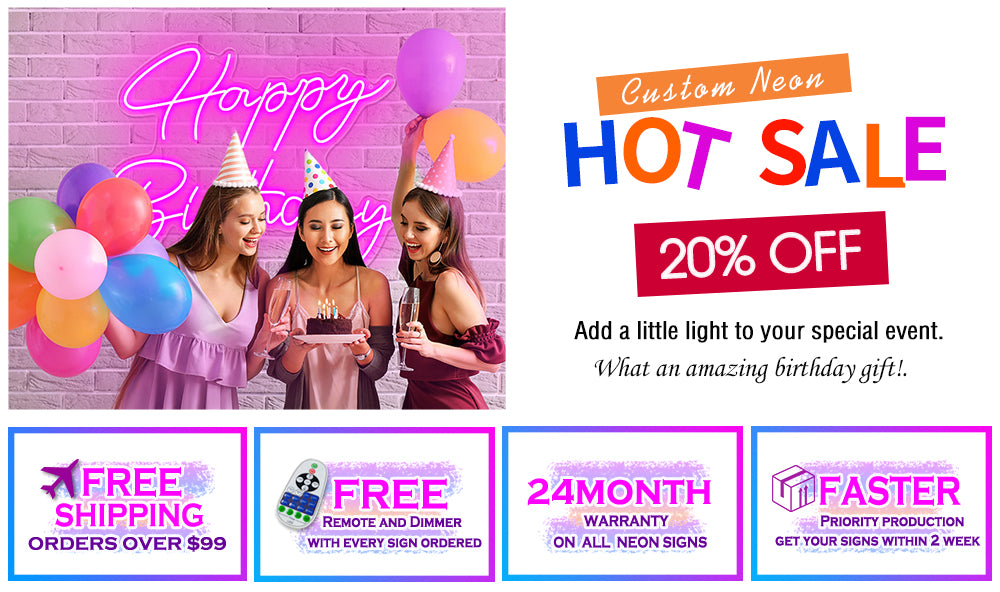 Buy handmade birthday neon sign for someone you love,that is what you call originality & thoughtfulness!Birthdays are celebrated once in every year. Thishandmade custom LED happy birthday neonlight is the perfect option for you. The personalized neon lights emit that cool and attractive rays that speak much more beauty than you might actually think of. Why don't you order a neon light to surprise your loved ones on their birthdays? Doing that will have no option than to leave them with a sweet and pleasant memory they can always look back at to put a smile on their face. Just buy birthday neon now.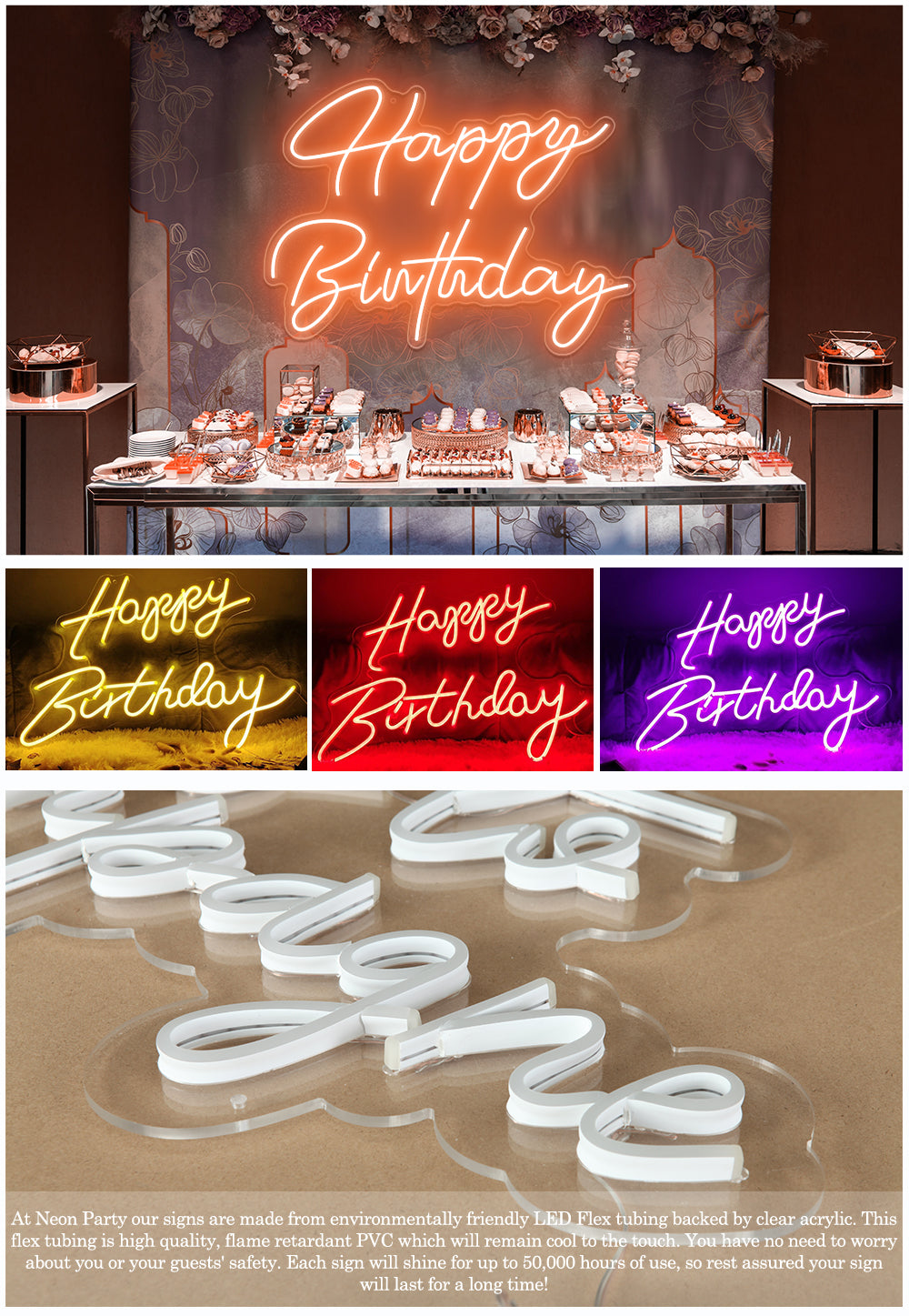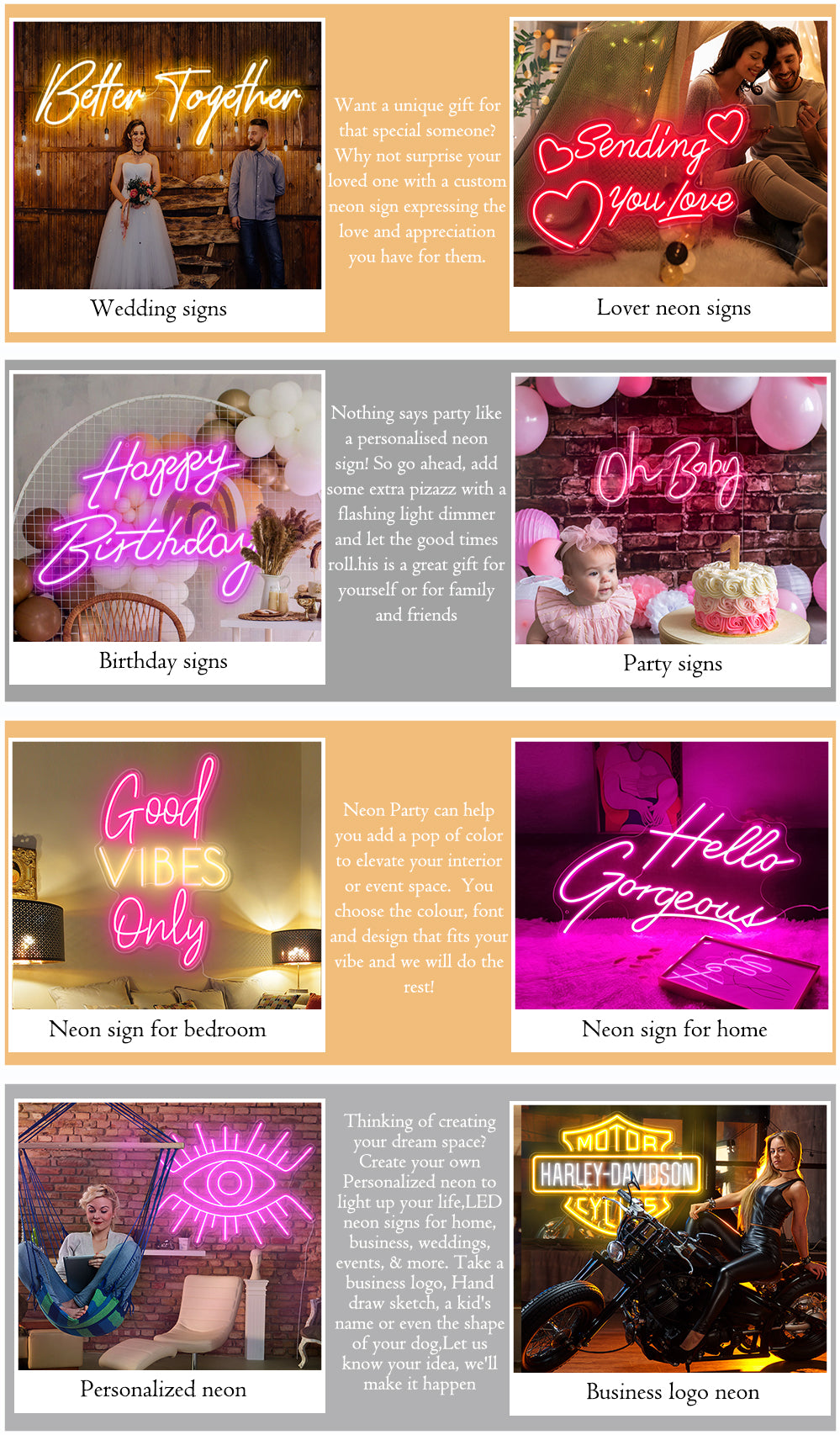 Neon Signs for Every Occasion ,Birthday, wedding, bar, restaurant. Whether it's an event or location, we have a variety of neon signs that will complement the ambiance. All our neon signs are available in a variant of colors. Try us for a fun experience today!We are capable of handling all your needs.
20"/50cm
29"/75cm
40"/100cm
60"/150cm
79"/200cm
99"/250cm

Videos-Light Options

What is you want different colors for different moods and different themes… don't worry we have got you… check out our top notch multicolor neon lights… 15 plus colors in one sign… choose the calming white or a bright red, vivid green or pretty pink…. All in one sign you get…
Browse through our amazing designs and order the multicolor color light option to get single light with quality of more than fifteen signs… dim the lights or brighten them up…. Flash the color patterns with remote and have fun…
Payment methods:

Your payment information is processed securely. We do not store credit card details nor have access to your credit card information.
Custom make your own LED neon sign
Please have a look through the FAQs below and let us know if there's anything else we can help you with.
Design Process

What colors can I choose from?

What fonts can I choose from?

What sizes can I choose from?

What if I want a sign that I can't create using your custom tool?

Do you offer a free design service?

Product Information

Where are your signs made?

What is the minimum size for neon signs?

Can Neon Signs be Used Outdoors?

Can I get a freestanding LED neon light?

What Are the Small Marks On My Sign?

How Long Do LED Neon Signs Last?

Are These LED Neon Signs Safe?

Do They Require Any Maintenance?

Can LED Neon Signs Break? What Are They Made of?

What Kind of Backing Does the Neon Flexible Tube Have?

Returns and Exchanges

What is your Return and Exchange Policy?

Does my new sign come with a warranty?

Production/Manufacturing

What's The Process for Customized Orders?

Does My Neon Sign Need Any Professional Installation?

How Do You Power the Neon Signs?

What's The Length of the Power Cord?

Do I need a remote & dimmer for my LED neon light?

Shipping

How Do I Get My Tracking Number?

When Will I Receive My Neon Sign/Artwork?

What are the shipping costs?

Why is the turnaround 2-3 weeks per order?

What if my sign is damaged in transit?

Custom Orders

What Other Types of Signs Can You Create?

Can you print an image on my sign?

How much do custom neon signs cost?

Why are neon light signs safer?