t's creative and meaningful to record your birthdays in custom neon lights,such as The first birthday theme plan maybe you can to custom Ist birthday neon for your baby,It is happiness to custom neon lights for you family or friends in every birthday party.I'm glad you did.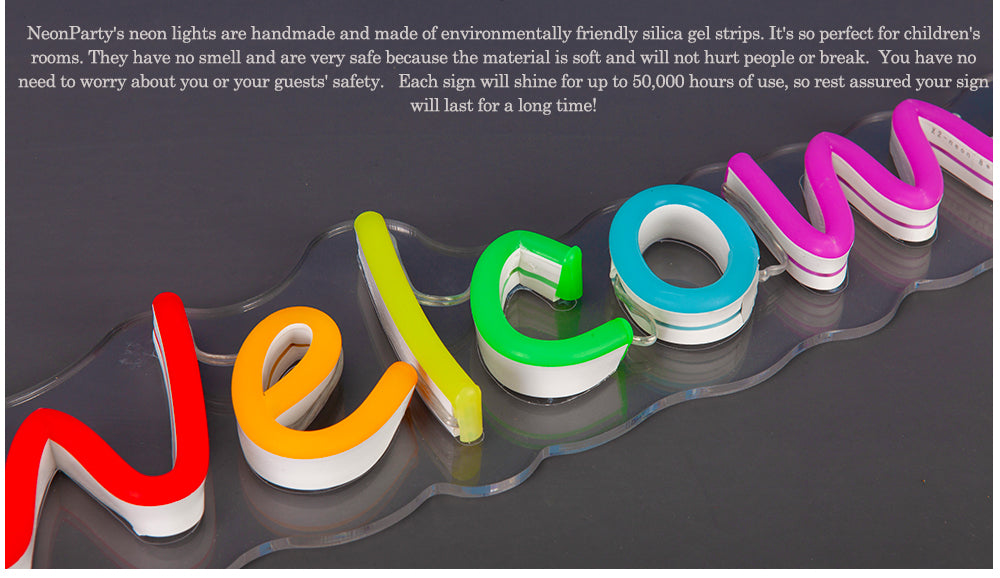 This special gift for your wedding is sure to amaze everyone,your guests will loved it for pictures,and After the wedding party,it's great that you can use at home,in the photo there's a POP of color photo booth light.The sign is perfect for outdoor wedding or indoor wedding


Home decor is important at all times, not just at Christmas day!So,Let's light up your sign and begin your fine day! We can design custom neon sign for living room,bedroom ,children room and garden, light up your sign can make you home look brand-new,It's Warm and romantic,and It'll put you in a better mood,customize your own neon lights decorate your home now!you can customize the text and shapes.


It is necessary to plan a creative theme for each events ,Use custom neon to make your theme stand out,such as birthday party,weekend party,dancing party or wine party ,Make neon lights by hand according to your requirements are personalized for you,It's gonna impress you and your friends,now to custom neon signs for next events.

Whether it is personal or commercial,you can Custom your own personalized neon lights,Such as your favorite sketch, business logo or even the shape of Your pet shape,No matter which style, The effect will surprise you, custome now!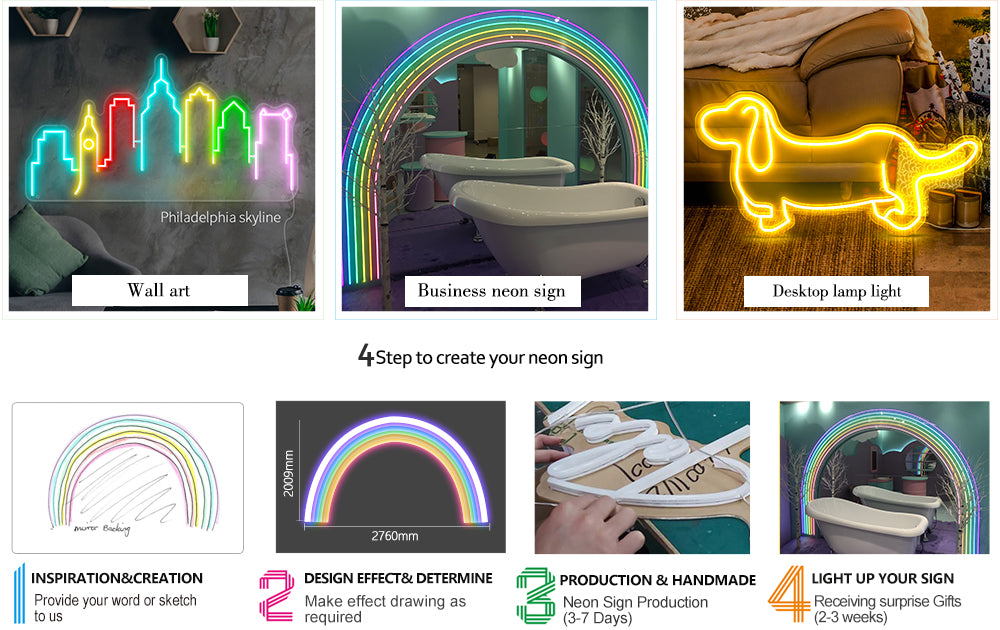 Payment methods :

Your payment information is processed securely. We do not store credit card details nor have access to your credit card information.
Is Neon partyTM Manufacturing and Shipping Neon Signs During the Current Pandemic Crisis?
YES! We are.
Our team of proficient designers is working safely with the WHO approved social distancing in place.
Where is Neon partyTM INTERNATIONAL PTY LTD Located?
Our HQ is located in Melbourne, Australia.
About neon size
Please select the width (length) of the neon light you want, and the height will be made according to the font/graphic ratio.
When Will I Receive My Neon Sign/Artwork?
Orders usually take 3-5 weeks, including production and shipping.
If you would like your sign quicker please add Rush My Order at checkout. This will push your order to the front of the production queue, for delivery to your address in 2-3 weeks.
How Do I Get My Tracking Number?
You will be automatically emailed with your tracking number once we ship out your order. If you don't receive your tracking number within 12 business days,  Please reach out to info@neonpartys.com
What Is Your Return or Exchange Policy?
*Please reach out to info@neonpartys.com for all returns or exchanges.
Once your order is processed and in production, it cannot be canceled or switched.
We offer returns and refunds for faulty products only. In line with Australian Consumer Law, we will try our best to resolve the issue and may fix, replace, refund, or partially refund the product. The final resolve for faulty products, including refunds for the cost of the product is decided on a case by case basis majorly depending on the source of the fault.
Please note that we do not provide pre-paid shipping return labels. Orders must be sent back at customer's expense.
We suggest you get a tracking number with your return also, as we are not liable for lost return packages.

Does Neon partyTM Offer Different Colours?
Yes, we offer a total of 16 colours to choose from. 8 of these comes with white tube but colourful LED, so the colour shows when the sign is ON. The remaining 8 colours show their shades even when the sign is OFF as it comes with a tinted cover on the tube.
Does Neon partyTM Offer Variety of Fonts?
Yes, we offer an extensive range of 40 fonts including script fonts, basic (block) fonts and double lined fonts. We believe this is the widest range offered by any LED neon sign maker. And that's not all, we can work with almost any font you want as well.
If your preferred font isn't listed on our custom neon sign maker (click the font tab) just contact us with your preferred font and we will make it happen for you!
What's The Process for Customized Orders?
You can directly place your order on our custom product page, or you can email our team at info@neonpartys.com and we will guide you through the process!
What Is the Minimum Size You Offer?
We can work to a minimum letter height of around 10cm (4"), as the letters have comparatively more definition at this size. However, there is a possibility of making even smaller letters, but larger letters have a neater finish.
Though, we offer a minimum sign size of 50cm in width, and usually work up to 250cm wide. In case of any additional queries feel free to email our team at:info@neonpartys.com
What's The Length of the Power Cord?
We offer a total of 13ft from the neon sign to your power plug. The cord from the neon sign is 1.8 meters (6ft) long sheathed with a clear coating, along with 1.2 meters (4ft) of black or white cord from the power adaptor. You get another 1 meter (3ft) black or white cord from the adaptor to your plug.
How Long Does The LED Neon Sign Last?
LED light comes with a lifetime of 30,000 hours minimum.  It almost makes 10 years given you turn on neon sign for 10 hours per day. The best part is the fact that it is 3 times longer lifespan than traditional gas neon signs.neon sign with 24 month warranty, If a problem arises, usually it is the transformer that fails, however these are replaceable items. We also supply replacements if it exceeds the warranty period.
Are These LED Neon Signs Safe?
Our LED neon signs are only 12V thus run at a safer voltage than a traditional neon light. Its low voltage output ensures the outer surface doesn't heat up even after long hours of operating.
Does My Neon Sign Need Any Professional Installation?
Hanging new neon signs is usually hassle-free. Custom neon signs have an average weight of 3-6kg and are pre-drilled on the acrylic back panel. All you need to do is fix the neon light on the wall or you can choose to suspend it from the chain as an optional accessory.
However, permanently used neon signs and some large internal neon signs requires professional installation.
To install a new neon light on the wall, you need to use one of our logo hanging or wall mounting kits. You can also use the following items to do the needful.
Fishing line

Rope

Heavy-duty movable hooks
Note: abovementioned are suggestions only. E-time is not responsible for the wall installation and/or installation of any of our products.

How Do You Power the Neon Signs?
All of our signs comes with a 12V transformer and connect directly into a standard power socket (with plug for each shipping country).
Does It Require Any Maintenance?
No. LED eco-friendly and maintenance free.
Can LED Neon Signs Break? What Are They Made of?
Our LED Neon's are much stronger than traditional neon signs. They are made from proprietary PVC molding technology and are unbreakable.
We deliver signs with high quality acrylic as backing, however, we can provide the neon sign without backing for professional clients as well.
Can You Use LED Neon Signs Outdoor?
Yes, we can produce waterproof versions for outdoors events and outdoor permanent installation.
Please specify your application when you submit your custom order inquiry or choose it direct on our custom sign product page.

What Kind of Backing Does LED Neon Flexible Tube Have?
Our LED neon flexible tubes are connected to acrylic backing. You can choose from the options if you want us to cut the backboard into a certain shape or a whole board.
Moreover, you can choose if the backplane color is transparent, solid color or UV printed images
What If I Want a Sign That I Can't Create Using Your Custom Tool?
If you are looking for something different that our tool doesn't offer, such as a business logo sign, bespoke open sign, or unique neon artwork, contact us with your ideas and we would love to work with you on a design.
We can do almost any font, shape, style and design…

Do I Need a Remote / Dimmer for My LED Neon Light?
Our dimmer and remote offers a variety of
brightness settings

ON & OFF option

Party Modes (light sign flashes, flickers and pulses)
We recommend purchasing the dimmer and remote. You can use it to control the neon brightness when taking photos in front of new neon sign or as a feature for a photo shoot or wedding.

What Are the Small Marks On My Sign?
As Neon partyTM light signs are handmade there is a rare chance of small marks on the acrylic or glue marks at the attaching point of the PVC tube holding flexible LED to the acrylic.
It's a rare thing to happen but if it does, the marks are very diminutive and when the sign is turned ON, they don't show at all.
Where are Custom Neon signs made?
Custom Neon signs are designed in Australia and the United States, and manufactured in China, Hong Kong, Australia and the United States. Where your sign will be made depends on the specifications of the logo, materials and production process conditions or special requirements.
What Other Types of Signs Can You Do?
We can create
weddings

birthdays

events

customized gifts

bar signs

neon business signs

open signs

indoor and outdoor neon signs

neon wall art

LED neon lights for home décor