All Neon Sign 30% off at checkout Use Code "EOFY30" . Limited time only 2022.6.21-2022.6.30
Use Code:EOFY30

Create your own led neon lights sign online, Buy our LED Neon light signs, get cool neon signs for offices, weddings, parties, bar, business logo, man cave or garage. We provide design personalized neon lights, both shape graphics and text.
Home Decor
Let neon lights light up your home,A simple pop of color can add personality to your office, brightening everyone's day along the way

Wedding Sign
This special gift for your wedding is sure to amaze everyone,your guests will loved it for pictures ,and After the wedding party, it's great that you can use at home,in the photo there's a POP of color photo booth light. The sign is perfect for outdoor wedding or indoor wedding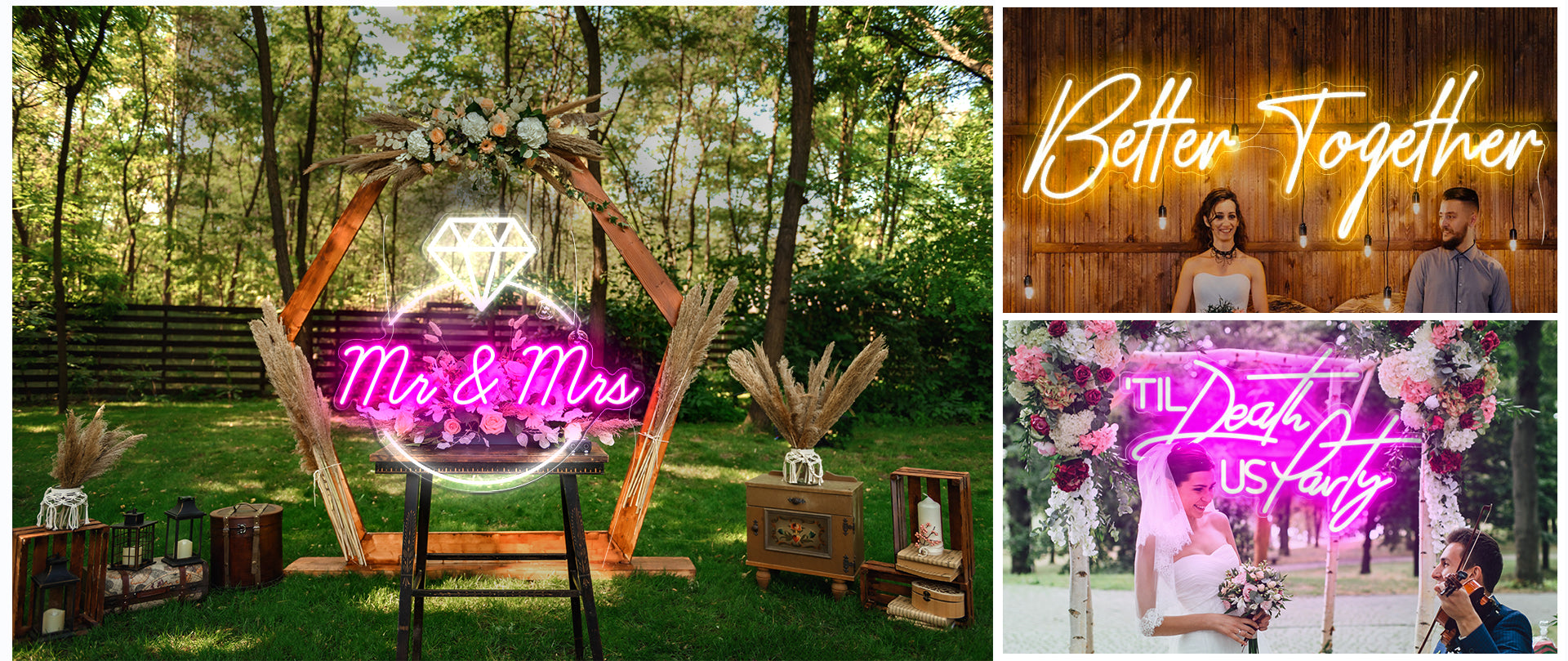 Party and Personalized
Let's neon sign light up your party and evry special event,added a POP of color in your lifu,neon sign is a good gift for yourself or your family,you can design personalized online ,let's Give the gift of neon light to that special someone.

Business neon sign
It's Necessary to Order a bespoke business logo for your next corporate event, office space or retail window,It will increase your business and brand image,people could not help but would like to take pictures with it and Share their social circle,just do it!design a open sign or business logo for your shop


Payment methods :

Your payment information is processed securely. We do not store credit card details nor have access to your credit card information.
Custom your own neon light signs fix your needs
Is Neon partyTM Manufacturing and Shipping Neon Signs During the Current Pandemic Crisis? YES! We are. Our team of proficient designers is working safely with the WHO approved social distancing in place..
Please have a look through the FAQs below and let us know if there's anything else we can help you with.
Custom Desingn Neon light

What if I want a sign that I can't create using your custom tool?

Do you offer a free design service?

Custom Neon Sign Product FAQ

What Is the Neon Minimum Size?

Does the Neon Signs Used for Outdoor?

Can I get a free-standing LED neon light?

What Are the Small Marks On My Sign?

How Long Does The LED Neon Sign Last?

Are These LED Neon Signs Safe?

Does It Require Any Maintenance?

Can LED Neon Signs Break? What Are They Made of?

What Kind of Backing Does Neon Flexible Tube Have?

Return and Refund policy

About the Return or Exchange Policy?

Does my new sign come with a warranty?

Production/Manufacturing FAQ

What's The Process for Customized Orders?

Does My Neon Sign Need Any Professional Installation?

How Do You Power the Neon Signs?

What's The Length of the Power Cord?

Do I need a remote & dimmer for my LED neon light?

Production/Manufacturing FAQ

How Do I Get My Tracking Number?

When Will I Receive My Neon Sign/Artwork?

What are the shipping costs?

Why is the turnaround 3-5 weeks for order?

What if my sign is damaged in transit?

Custom your own neon sign

What Other Types of Signs Can You Do?

Can you print an image on my sign?

How much does custom neon sign cost?

Why are neon light signs safer?
Thank you for your feedback! We are so happy to hear from you!
Don't Go Anywhere Else For A Custom Sign!
The customer service was absolutely amazing, I had someone personally emailing me through the whole experience to confirm my order and make sure I was happy with the font and size, even following me through the shipping, which by the way was super fast! And I couldn't be more happy with the results! I love my custom made sign that forever will be a memory of all our world travels :)
We very much appreciate your comments and hope you have fun with our neon and call again.
AMAZING
What an Absolutely amazing team
Tracy and co thank you so so much for our amazing sign exactly as described a great quality product and the wow factor of our night. We ordered on extremely short notice and the team had it made, shipped and on our door exactly to time as communicated
THANK YOU
We very appreciated your comments, and hope you have fun with our neon and call again.
Nice addition to our store
Had our company name done and setup behind our front cashier desk. Looks great and they provided pretty good service too!
Thank you so much for your wonderful review, and hope we can have a chance to serve you again.
Better than expected!
I was so nervous about ordering a custom sign like this. Would it come out right? Would it arrive in time? Would it function as promised? Happy to say that it was perfect! Arrived in less than 3 weeks, exactly as ordered, and worked perfectly! We gifted it to my sister at her bridal shower and she was so excited! I'll likely be ordering from Neon Party again in the future.
Thank you so so much for your positive feedback. I'm glad our product does not disappoint you. Enjoy your neon. And please call again in future.